Winter Sports Injuries Treatment with Chiropractic
Winter Sports Injuries Treatment with Chiropractic
Written By Jochen Chiropractic and Wellness Center on January 15, 2021
---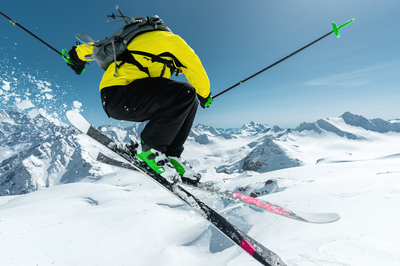 Winter is a beautiful season — full of glistening snowfall ready for people to enjoy skiing, snowboarding, sledding, and more. However, these exciting activities also include occasional injuries that need long- and short-term treatment. In fact, over 25,000 children alone are annually treated for injuries related to skiing or snowboarding.
While the majority of people can benefit from chiropractic care, those who are at risk of experiencing sports injuries should seek natural treatment during winter.
How to Avoid Winter Sports Injuries
Even the most seasoned sports enthusiast can fall victim to injury. Winter sports injuries range from broken bones and sprains to muscle strains from overworking your body. To help avoid injuries, it's important to stay in good physical condition and take the following precautions:
Stretch and warm your muscles before performing any sport
Hydrate with plenty of water before, during, and after activity
Wear the relevant protective gear and footwear
Keep your body in shape with physical conditioning
Visit your local chiropractor regularly
Chiropractic Treatment for Winter Sports Injuries
Winter sports injuries often require a high level of flexibility, balance, and strength. If you experience an injury, chiropractic care provides natural and non-invasive treatment options to restore your functionality and get you back on the slopes. Common injuries chiropractic care helps treat includes:
Whiplash
Neck injuries
Rotator cuff injuries
Dislocations
Sprains
Treatment Options with Chiropractic
When you visit your chiropractor for a winter sports injury, they will conduct a comprehensive physical examination, medical history interview, and X-ray to diagnose your pain. Once diagnosed, the doctors will develop a personalized treatment plan that targets the root cause of your discomfort, so you can reach overall wellness.
Your chiropractor may recommend the following natural treatment methods for your sports injuries:
Spinal adjustments
Massage therapy
Physical therapy
Laser therapy
Exercise suggestions
Acupuncture
Attending your chiropractor regularly will not only treat your immediate pain but also increase your performance and prevent future injuries, so you can enjoy your favorite winter activities again.
Find Injury Relief in Beverly Hills with Chiropractic
Before you start taking part in winter sports, it's essential to ensure your body is equipped and ready for potential injuries. When you regularly visit Jochen Wellness Center, you will receive personalized chiropractic natural treatment that provides you long-term wellness.
Schedule an appointment today with Jochen Wellness Center for winter sports injury relief.

Posted In: Chiropractic