Can a Chiropractic Neck Pain Treatment Help Text Neck?
Can a Chiropractic Neck Pain Treatment Help Text Neck?
Written By Jochen Chiropractic and Wellness Center on February 17, 2020
---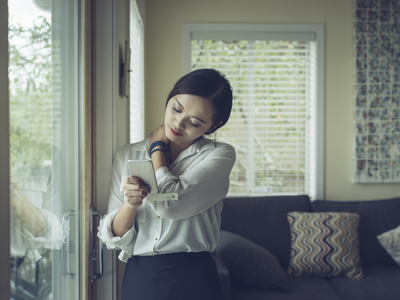 Remember when everyone was suffering from Blackberry thumb?
While those days are gone, there's another painful issue that a lot of people are suffering from due to technology. It's called text neck and oftentimes, it requires chiropractic neck pain treatment in order to reduce pain.
What is text neck and what can your Beverly Hills chiropractor do to help?
What Is Text Neck and Why Is It So Prevalent?
Text neck is prevalent because everyone is so connected to their phones. You can do anything from a phone, including:
Keep in touch with friends and family
Play games
Read books
Run a business
Write an article
When you're constantly looking down at your phone, your head (which weighs about 10 pounds) is pulled forward. Instead of remaining perfectly balanced on your neck and shoulders, your neck is taking the brunt of the pressure.
In essence, you're dealing with an extreme case of poor posture. Eventually, you'll have sore muscles, headaches, and even migraines. It can even lead to numbness and tingling in the arms and legs, as well as back pain.
Why Chiropractic Neck Pain Treatment in Beverly Hills Helps
When suffering from text neck, your spine can get out of alignment, which can result in even more pain. Thankfully, your Beverly Hills chiropractor can create a neck pain treatment plan that:
Realigns the spine for less muscle tension
Relaxes the muscles of your head, neck, and shoulders
Help correct poor posture
Gives you relief from text neck pain
Jochen Chiropractic and Wellness Center Can Prevent Text Neck
Your Jochen Chiropractic team doesn't just want to relieve your pain – they want to help you prevent it. One way to do that is to practice proper posture. Your Beverly Hills chiropractic team can help you achieve ideal posture with exercise recommendations and regular treatments that will keep your muscles flexible and your spine in proper alignment.
Are you experiencing chronic neck pain or headaches? Call our office at 310-556-8071 to schedule an appointment. We can help!

Posted In: Chiropractic Neck Pain Neck Pain Treatment Text Neck